Track your visits at UNESCO World Heritage Sites
Ever wondered how many UNESCO World Heritage Sites you have visited and how many you still have to visit. Thanks to a little tool of the Wandering Aramean's website, you can now track your visits.
You will get a nice statistic as well, including a small banner to embed in your website or as a signature in forums and a map. It's a pretty slick tool and helps me to adjust my travels to include this sites as well, because you should have seen them once if you can.
Here is my UNESCO World Heritage statistic: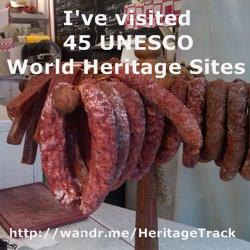 In the photo below you can see the old town of Regensburg in Germany. A place I have visited many times in my life. I used to live just a short drive away from it.
I had some issues with the site if I used the multi visit option. After I hit submit I got to another site with an error message. Don't worry, even that there is an error message, your entries got all entered into your database. Don't go back and submit it again, this will just lead to double entries.